Three Danes CrossFit – CrossFit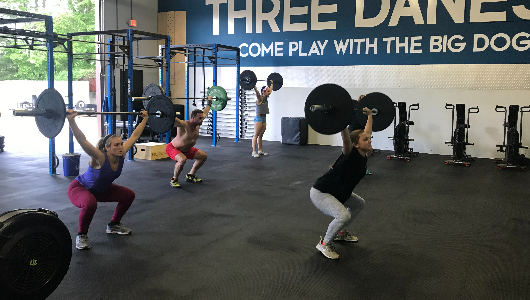 WOD
4 RFT – PARTNER WOD
Partner A runs 400m

Partner B AMRAP

10 Bench Press 115#/ 75#

15 Toes To Bar
*each partner to complete 4 runs and 4 AMRAPs

Score is total reps completed during the AMRAP for both partners
Warm-up
3 Rounds

Wall Run

10 Push Ups

15 Air Squats

25 Double Unders
Mobility
Suggested mobility stretches for today's class. Complete stretches as needed for areas which need improvement/ are tight. Approx. 1 minute per stretch:

Squat Stretch

Quad Stretch (Butt Kick Leg Pull)

High Knee Pull

Lat Stretch on Wall

Chest Stretch (pec) on wall

Hip Bridge

PVC Circle

Rig Calf Stretch

Band Pull Apart, palms up

Mobility Ball – Shoulder Back Traps Lats Pecs
Weightlifting
Athlete to complete 4 reps per arm to complete each set. Maintsain correct form and see if you can increase weight each set.
Turkish Get Up (4 – 4 – 4)
WOD
Metcon (AMRAP – Rounds and Reps)
4 RFT – PARTNER WOD
Partner A runs 400m

Partner B AMRAP

10 Bench Press 115#/ 75#

15 Toes To Bar
*Each partner to complete 4 runs and 4 AMRAPs

Score is total rounds and reps completed during the AMRAP for both partners.
Each person to continue the AMRAP where their Partner stopped.