Three Danes CrossFit – CrossFit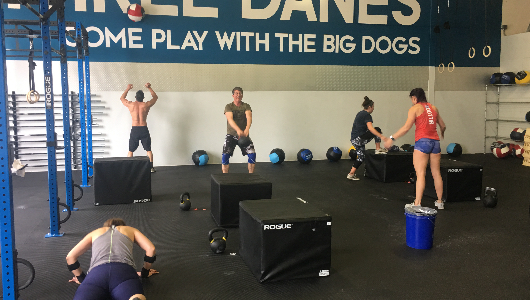 WOD
Every 3 Minutes for 12 Minutes
15 Kettlebell Swings 53#/ 35#

21 Burpees to Target 6″

15 Kettlebell Swings
Rx+ 70#/ 53#
Warm-up
Calorie Row 100/ 70

OR

Calorie Bike 125/85
Mobility
Suggested mobility stretches for today's class. Complete stretches as needed for areas which need improvement/ are tight. Approx. 1 minute per stretch:
Couch Stretch

Front Rack Stretch

Wall Stick-up

Knee Circles – Left, Right, Back and Forth

Cradle Stretch

Hollow Rock

Superman

Superman Arm Raises

Superman Arm Hold

Band Pull Apart, palms up

Banded Arm Circles

Banded Reverse Shoulder Stretch

Banded Shoulder/ Lat Stretch

Mobility Ball – Shoulder Back Traps Lats Pecs
Weightlifting
Back Squat (8 – 6 – MAX REPS)
Choose a weight you believe you can hit for 8-12 reps

Warm up sets:

8 reps @50% of working weight – Slow controlled pause squats

6 reps @75% – Focus on speed

Max Reps Set:

Max effort reps at chosen weight. If you get over 15 reps, you went too light.
Enter weight and reps for last set.
WOD
Metcon (AMRAP – Rounds and Reps)
Every 3 Minutes for 12 Minutes
15 Kettlebell Swings 53#/ 35#

21 Burpees to Target 6″

15 Kettlebell Swings
Rx+ 70#/ 53#
If the round has not been completed when the three minutes is up then continue from where you are in the round. Enter completed number of rounds and reps as your score.
CASH OUT
4 Rounds

Not For Time

:30 Freestanding Handstand Hold

Rest :60

:30 Max Rep Shoulder Taps (freestanding)

Rest :60
Complete against the wall as needed.