Three Danes CrossFit – CrossFit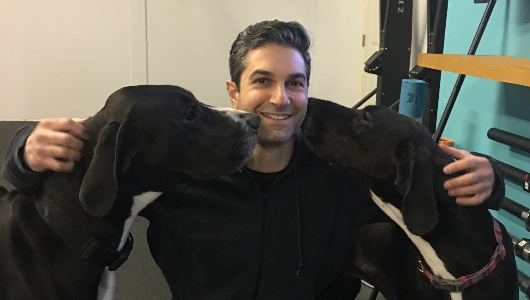 Rogue and Willow showing Marc S. some Three Danes love!
WOD
3 rounds

30 seconds at each station followed by 30 seconds of rest

rotate stations and record reps after each 30 seconds work

Score is combined total rep count for all stations after all 3 rounds are completed
Rope Climb; 1 rep per climb (3 scale downs = 1 rope climb)

Around the World Wreck Bag Slam; 1 rep per slam (40/25)

Slam Ball Push Up; alternate hands on the ball, 1 rep per push up (50/30)

Ski Erg; total cal, 1 rep per cal

GHD Hip Extension

Bear Crawl Slam Ball Push; go from GHD's to opposite wall and back, 1 rep per each mat covered (50/30)

Rower Crunch; 1 rep per crunch

Bear Crawl Wreck Bag Drag; go from GHD's to opposite wall and back, 1 rep per each mat covered (40's/25's)

Wall Run; one way = 2 reps

Wall Walks
Warm-up
(0-15:00)
3 Minute Easy Bike
1:00 Active Spidermans

1:00 Active Samson

1:00 Walkouts
3 Rounds:

3 Push-ups

6 Sit-ups

9 Air Squats
Mobility
(15-25:00)
Couch Stretch – 1:00 Each Leg

Facing away from a wall in a kneeling position with hands on the floor for support, place one leg so that the shin bone is as close to the wall as possible (the respective foot will be in the air). Slowly bring the opposite foot up in front of you, and keep the heel down for a base of stability. Slowly bring your chest up as you imagine driving your waist forward, and hold at a position that provides a deep, but not overwhelming stretch. Focus on your breathing.
Pigeon Pose – 1:00 Each Side

From a pushup position, sweep one leg beneath your body. Let's use the right as an example. With your right leg beneath your body, aim to adjust your shin so that it is perpendicular to your torso – in other words, horizontal in relation to where your torso is facing. Slowly imagine sinking your waist back and down to the floor as you feel the stretch in the outside of your hip.
Banded Shoulder Distraction – 1:00 Each Side

Lace a stretching band onto a pull-up bar, and with one hand wrapped inside, face the band and step away to create tension. Allow your torso to pitch forward and allow the arm to relax into the stretch. If your right hand is inside the band, take a small step back with your right foot, and slowly rotate your torso to the right. This will further open and stretch your lat.
Front Rack Stretch – 1 Minute

Laying on your chest, place our elbows out in front, arms bent at 90 degrees. The goal is to close the gap between the armpits and the floor, which will stretch the lats, shoulders, and triceps.
Wrist Stretch – 1 Minute (each direction)

From hands and knees position, place palms on the ground with fingertips facing towards you. With elbows locked, actively rock back and forth through range of motion to feel the stretch in the wrist. After 30 seconds, reverse hands by facing fingertips away from the body and repeat active stretching for final 30 seconds.
PVC Circles- 1 Minute
Rehearsal
(25-30:00)
Layout and explain each station for todays WOD!
Metcon (AMRAP – Reps)
3 rounds

30 seconds at each station followed by 30 seconds of rest

rotate stations and record reps after each 30 seconds work

Score is combined total rep count for all stations after all 3 rounds are completed
Rope Climb; 1 rep per climb (3 scale downs = 1 rope climb)

Around the World Wreck Bag Slam; 1 rep per slam (40/25)

Slam Ball Push Up; alternate hands on the ball, 1 rep per push up (50/30)

Ski Erg; total cal, 1 rep per cal

GHD Hip Extension

Bear Crawl Slam Ball Push; go from GHD's to opposite wall and back, 1 rep per each mat covered (50/30)

Rower Crunch; 1 rep per crunch

Bear Crawl Wreck Bag Drag; go from GHD's to opposite wall and back, 1 rep per each mat covered (40's/25's)

Wall Run; one way = 2 reps

Wall Walks