Three Danes CrossFit – CrossFit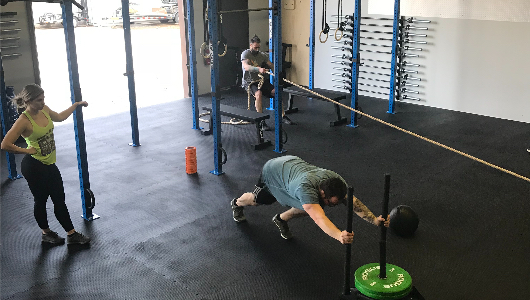 WOD
Teams of 3:

AMRAP 25:

150/100 Calorie Bike, 100 Power Cleans (135/95)

150/100 Calorie Bike, 80 Push Jerks (135/95)

150/100 Calorie Bike, 60 Front Squats (135/95)

150/100 Calorie Bike, 40 Clusters (135/95)
Teams of three workout, alternating back and forth between the bike and barbell movements. Limiting factor in the workout today will most likely be the push jerk. Looking to find a weight that athletes could complete 20+ reps unbroken of this movement when completely fresh. It is ok to have teams with multiple barbells to ensure proper stimulus for each athlete. If there is a mixed team of males and females, complete 125 calories on the bike. Options if you don't have bike listed below:
Warm-up
(0-10:00)
Three partners rotating through three stations (Bike, Active Stretching, Mobility)
1 Minute

Easy Bike

Active Spidermans

Front Rack Stretch
45 Seconds

Medium Bike

Active Samson

Squat Hold
30 Seconds

Faster Bike

Air Squats

Child's Pose
followed by…
Barbell Warmup

5 Good Mornings

5 Back Squats

5 Elbow Rotations

5 Strict Presses

5 Stiff-Legged Deadlifts

5 Front Squats
Teaching
(10-25:00)

Every athlete will have their own barbell as we teach and prep these movements.
Focus Point Across All Movements

Keep the Bar Close to Center of Body
Power Cleans

Lats on

When the lats relax, the bar has a tendency to swing away from the body, creating a less efficient bar path to the shoulders. Squeezing the bar tight to the body makes for better control of the weight as it travels to the finish position.

Movement Prep:

2 High Hang Power Cleans

2 Hang Power Cleans

2 Power Cleans
Push Jerk

Forearms

Wherever the forearms are pointed while in the front rack position is where the bar will end up overhead. If our elbows drop in the dip or are behind the bar from the start, the bar will finish out in front of the body. Placing the elbows slightly in front of the bar will result in the forearms pointing directly over the middle of the body, where we want it to go.

Movement Prep:

Hold Finish Position – 5 seconds

Hold Dip Position – 5 seconds

3 Push Jerks
Front Squat

Bar on Shoulders

Holding the bar with a loose fingertip grip will help athletes get the elbows as high as possible and maintain bar contact with the shoulders throughout. As they squat, leading with the elbows will allow the weight to stay balanced over the middle of the body through the full range of motion

Movement Prep:

5 Pausing Front Squats
Clusters

All of the Above

Putting all our previous movements together with the clusters. However, one of the things that will change is maintaining a full grip on the bar throughout. Using a loose fingertip grip and re-catching in a full grip overhead is a risky move with a loaded barbell. Thinking about a similar hand position to the push jerk on the clusters.
Movement Prep:

2 High Hang Clusters

1 Hang Cluster

1 Cluster
WOD Rehearsal
(25-30:00)
5 Calorie Bike

2 Power Cleans

2 Push Jerks

2 Front Squats

2 Clusters
Athlete 1 will complete 5 calories, then athlete 2, then athlete 3.

Athlete 1 will complete 2 power cleans, then athlete 2, then athlete 3.

And so on…
Strategy
On the Bike:

Thinking big effort and quick transitions here. We want athletes off the bike before they start to slow down. Picking a calorie number or time interval that works for each team will make for smoothest transitions here.
On the Barbell:

Potential break-up strategies for barbell movements below. Some numbers are not divisible by 3, so one athlete will have to do more repetitions on those.
Power Cleans: (8-8-8-8)
Push Jerks: (10-8-7)
Front Squats: (10-10 or 12-8)
Clusters: (5-4-4)
Metcon (AMRAP – Rounds and Reps)
Teams of 3:

AMRAP 25:

150/100 Calorie Bike, 100 Power Cleans (135/95)

150/100 Calorie Bike, 80 Push Jerks (135/95)

150/100 Calorie Bike, 60 Front Squats (135/95)

150/100 Calorie Bike, 40 Clusters (135/95)